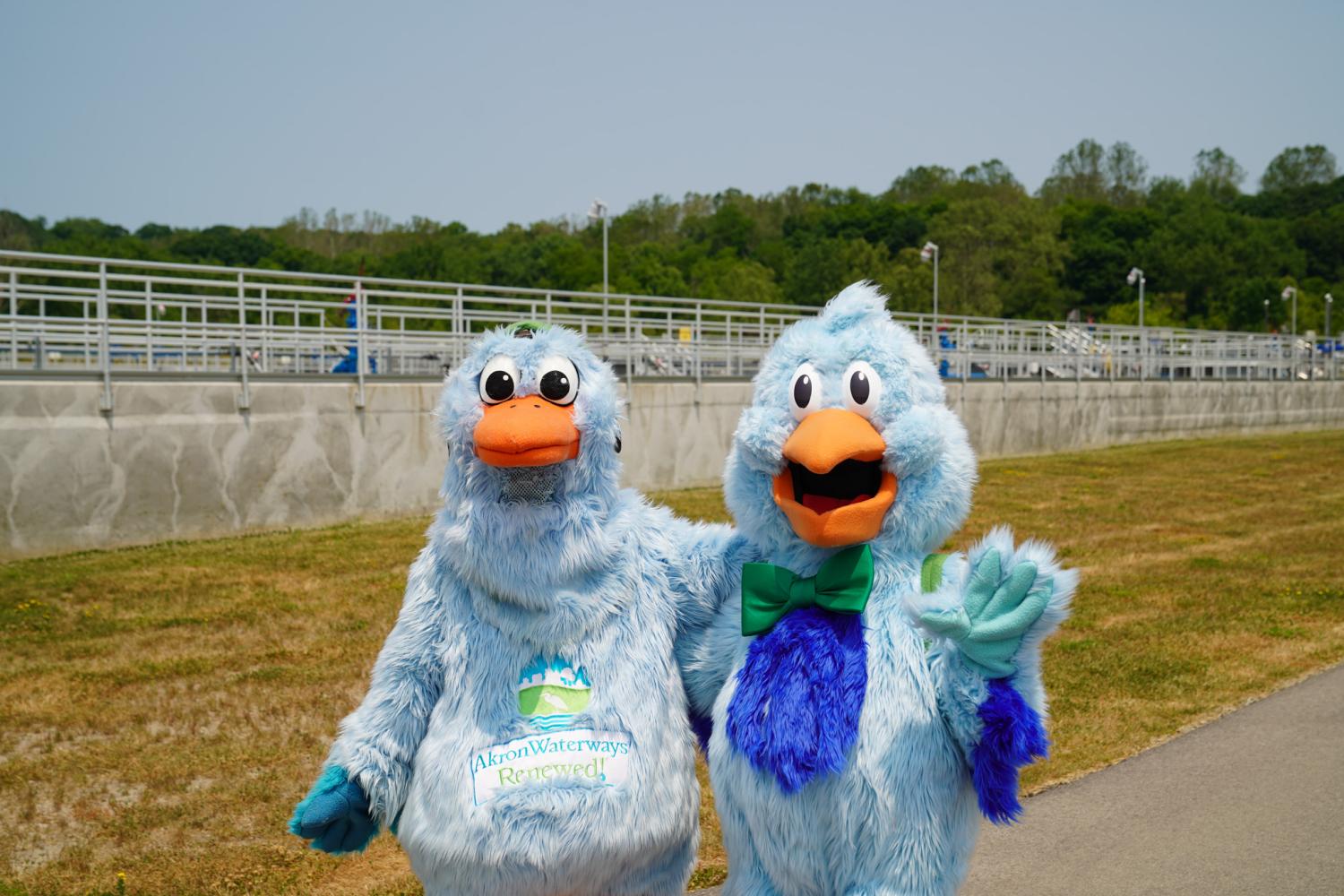 The City of Akron is delighted to host its 9th annual Blue Heron Homecoming on Saturday, June 24, 2023 from 10 AM to 2 PM at the Water Reclamation Facility, located at 2460 Akron Peninsula Road. This free, family-friendly event will be a day of education and fun for residents of all ages. The zero-waste event will take place rain or shine.
The Blue Heron Homecoming is an annual environmental festival that provides community members with a chance to learn about the Akron Waterways Renewed! (AWR!) program. The festival features representatives from the City of Akron, firms involved with the AWR! program, and community partners, including local non-profits and environmental groups. This year's theme is "Clean Water: Back to Basics."
Highlights of the event include the following:
free seedlings, available to the first 100 families to attend;

multiple chances to win a rain barrel;

tours of Akron's Water Reclamation Facility;

free lunch provided by The Ice Bucket;

two dozen exhibits with fun activities; and

live music for kids and adults.
"We've worked incredibly hard to make drastic improvements to the Water Reclamation Facility and overhaul our sewer infrastructure and it's evident in the return of the Blue Heron and the eagles you see nesting near the Cuyahoga River," Mayor Dan Horrigan said. "The Blue Heron Homecoming festival is always a great opportunity to celebrate the progress we've made in improving our waterways, and to educate the general public on the basics of clean water."
The Blue Heron Homecoming festival started in 2015 and is named for the great blue herons that nest nearby. This four-foot-tall bird is native to Ohio and was in serious decline due to the poor water quality of the Cuyahoga River. Since efforts have been made to improve water quality, the great blue heron has returned to the area, and is commonly seen along the Towpath Trail, Ohio & Erie Canal, Cuyahoga River, and Little Cuyahoga River. This year's homecoming is taking us back to the basics and educating visitors on all the work done behind the scenes to keep our water clean.
There is no public parking at the Water Reclamation Facility so parking locations will be clearly marked at: Todaro's Party Center (1820 Akron Peninsula Road) and Botzum Trailhead (2928 Riverview Road). Shuttles will run in continuous loops to transport guests to and from the entrance back to both parking locations.
Please note: the festival is outside therefore please use the below precautions:



Closed-toe shoes required because this is a working industrial facility.




Tour will be a considerable amount of walking and standing (around 1-hour).  This includes travel up and down stairs along the wastewater treatment tanks.




Children (regardless of age) must be accompanied by an adult (one adult for each child) due to the tour being through a working industrial facility.