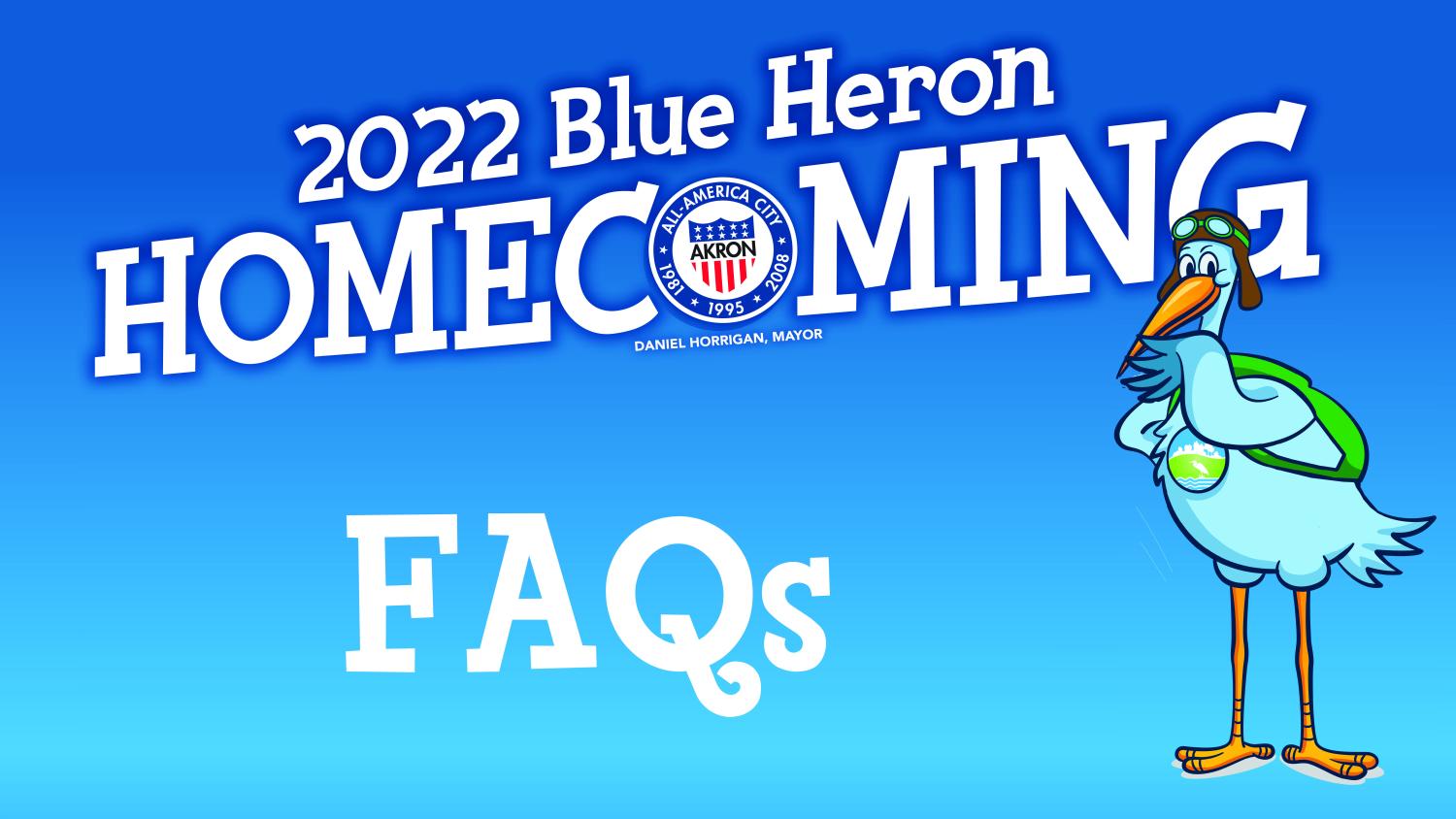 Blue Heron is two weeks away!  If you're planning on joining us Friday the 17th, below are some frequently asked questions.
Where do I park?
Only handicapped parking is available on site for the event, but shuttle buses, provided by TL Transport, will be running from Buchtel CLC (every 45 minutes), Firestone High School (every 30 minutes) and North High School (every 30 minutes). We also have a shuttle running from the closest bus stop which is Cuyahoga & Uhler serviced by Route #34.
How do I get a free Metro ride?
To get a free ride to the homecoming, simply show the metro driver our flyer in print or on your phone. This will get you to the Cuyahoga & Uhler bus stop serviced by Route #34.
What activities will there be?
In addition to bus tours of AWR project sites, you can check out an Akron Fire Department firetruck, METRO RTA's e-bus, and a sewer and TV truck from the Water Reclamation Facility. This year, we will have a wide range of exhibitors with over two dozen fun and educational activities: 
AECOM Great Sewer Race
Akron Fire Department
Akron Waterways Renewed! Bracelet Making
Akron Zoo
Akron, Watershed Division
Anser Advisory Making a Rain Stick
ARCADIS Birds of the Cuyahoga River
Burgess & Niple 
C&K Industrial Services, Inc
Conservation on the Cuyahoga Macroinvertebrate Mayhem
CT Consultants
CTI Engineers CTI Super Bowl Flush
Cuyahoga Valley National Park River Renewal
Downtown Akron Partnership
DLZ Ohio, Inc Super Flush
Friends of the Crooked River
GPD Macroinvertebrate Mayhem
Halle's Engineering & Design, LLC 
Kayak Group Kayak Demonstration
Keep Akron Beautiful
McMillen Jacobs Combined Sewer Overflow Storage Tunnels
Metro RTA
Northeast Ohio Regional Sewer District
Office of Integrated Development Akronite App
Ohio EPA
Summit Metro Parks Free the Falls, Wild Backyards
Summit Soil and Water Rain Barrels
Thomarios Northside Project
University of Akron Field Station Build a Boat
Water Reclamation Facility/Sewer Maintenance 
Wick Poetry Center Poetic Inventory of Cuyahoga Valley National Park
What about entertainment?
There will be live music, a DJ, free lunch and a free 9oz Kona Shaved Ice to all children who collect six stickers for their passport.